Kirk Albert Vintage Furnishings offers an ever-changing collection of extraordinary objects—from cutting-edge to traditional, ominous to humorous, profound to profane.
Albert's revolving collection of "perfect imperfections" has been widely recognized, and his showroom in Seattle's industrial Georgetown neighborhood is now a destination for many of the country's leading retail buyers who are searching for distinctive, one-of-a-kind objects.
Found objects are complemented by the recently launched Kirk Albert Studio Collection, a series of custom-designed products, all fabricated in Seattle. Many of these objects were custom-designed for large commercial clients and are only recently available to the public.
Found Objects
Found objects are the heart of Kirk Albert Vintage Furnishings.
Whenever he isn't in the store, Kirk is scouring the country—from premier markets to the barns of rural folk artists—looking to uncover extraordinary objects. Objects that are one-of-a-kind. Objects with huge scale. Objects with huge character. Objects that serve as focal points. Objects that can singlehandedly define spaces and define brands.
Once discovered, objects are shipped back to the Seattle workshop where they're cleaned, or distressed, or combined, or modified, or mounted, or re-wired (to UL Certification standards)—or left completely untouched—whatever it takes to make them exceptional.
LIMITED AVAILABILITY: Found objects sell quickly—and most are one-of-a-kind. If you see something that catches your eye, email us at info@kirkalbert.com or call 206.762.3899 and we'll let you know if it's still available. Be sure to check back frequently, as new items arrive every week.
Studio Collection
Developed for our retail clients over the past several years, the Kirk Albert Studio Collection is now available to all. These largely functional objects serve as a complement to our one-off found objects.
QUALITY CRAFTSMANSHIP: All items are meticulously crafted by local artisans.
CHARACTER AT SCALE: Our production items help designers deliver both authenticity and quantity. Need enough tables to fill a restaurant? We can help. Need to spec a single display unit that can be rolled out to dozens or hundreds of stores nationwide? We can do that too.
CUSTOMIZABLE: Most items come in a range of finishes and colors. Dimensions and materials can frequently be altered for an additional fee. Let us know what you're looking for and we'll be happy to provide you with a custom quote.
LEAD TIME: Typically 8-10 weeks.
Custom Design
PERSONALITY + PRACTICALITY: Kirk Albert enables retailers to add authenticity and unique personality to their spaces by designing and sourcing exceptional objects—that also meet stringent functional requirements (UL certified wiring, insurance and risk management inspections, narrow delivery windows, retail wear and tear, etc., etc.).
OUR VALUE TO RETAILERS
1. Brand Defining Objects
2. Character at Scale
3. Retail-Strength Fabrication
4. Storage and Delivery Logistics
CORE SERVICES FOR RETAILERS
Sourcing Found Objects
Short-Run Production Items
Reproduction of Existing Items
Custom Product Design
Tailored Buying Services

INTERESTED IN LEARNING MORE?
To determine if our expertise is a good fit for your needs, call 206.762.3899 or email info@kirkalbert.com.
A collection of our favorite things from the first few years of the store. Perfect Imperfections No. 01
We're following up the success of our first book with a new collection: Perfect Imperfections No. 02 now available!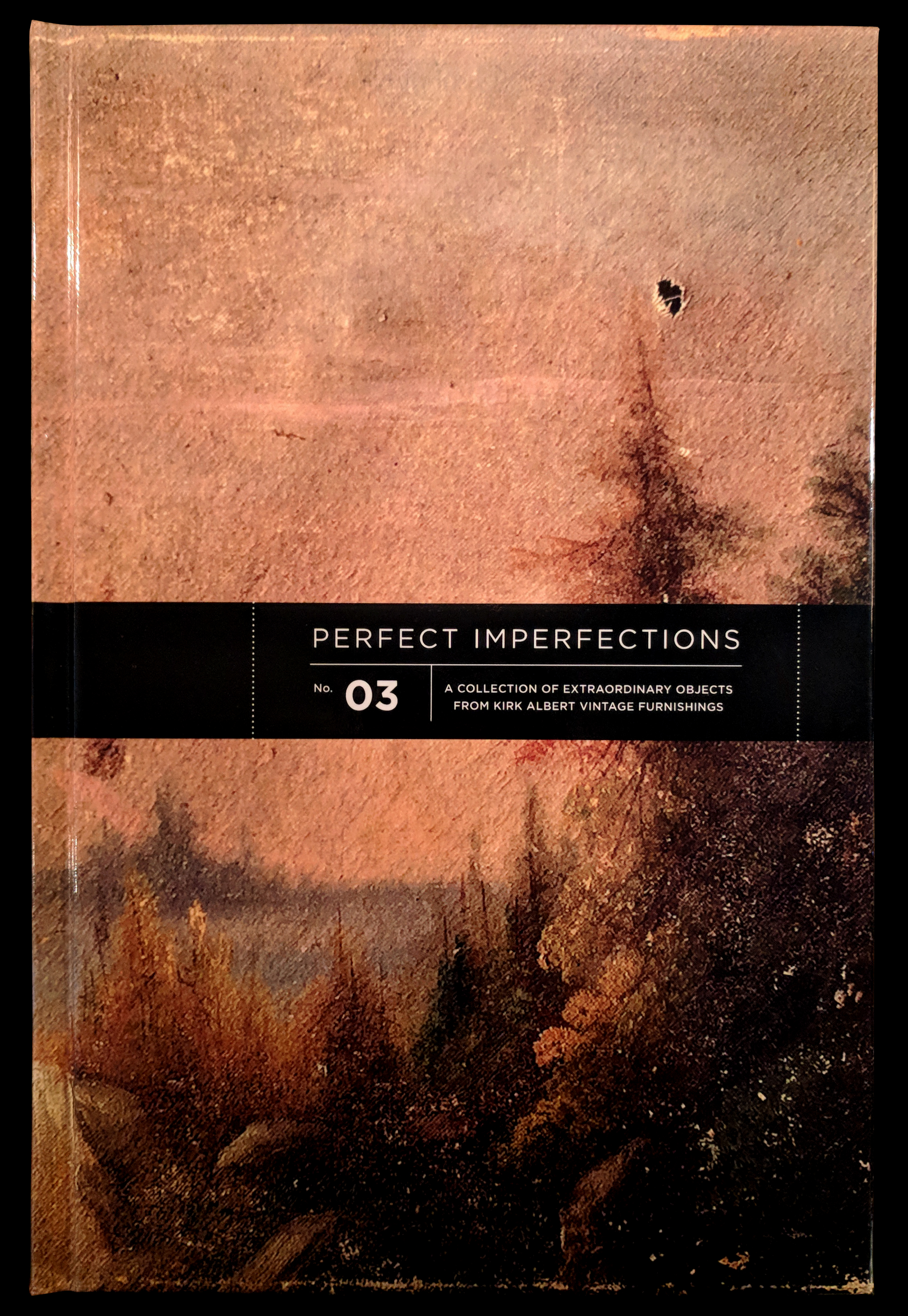 New year, new addition! Check out Perfect Imperfections No.03, now available!
Any edition available on request. Email info@kirkalbert.com or call the studio at (206)762-3899 for more information.
"You won't find anything ordinary here" — Apartment Therapy
"A subtle, refined design sense. Like Mardis Gras subtle." — Aurora Suzette
"Utterly eccentric" — Domino Magazine
"Kirk has a gift for turning the random into the amazing" — Yelp Reviewer
"Walking into the shop is like sliding down the rabbit hole - you just never know what you're going to find" — Seattle Times NW Source
"Kirk goes big. A giant gilded shoe (formerly a display item?). A time-worn stack of vintage wedding cake molds. A huge "Meat Market" sign. You won't see this kind of stuff in your regular store, but Kirk isn't operating your regular shop." — Decorno
"The kind of marvelous shop that you stumble into and don't soon forget" — Seattle Times NWSource
"Truly unique finds" — DesignSponge
"The go-to guy for young professionals with hip, expansive loft space in need of a defining focal point." — Apartment Therapy
"A brilliant and inspiring shop of restored and re-appropriated antique and mid-century modern objects" — Blog.BuildLLC
"Kirk Albert has a knack for creating original works out of found objects" — Seattle Magazine
"Kirk Albert has an amazing ability to find and mix whimsical and the obscure vintage home furnishings together for a great urban mix" — ThisNext.com